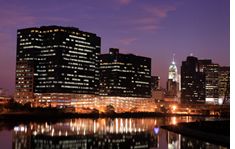 EWR SuperShuttle, or as some call it the Blue Van, provides quality ground transportation to Newark and the New York area. If you need a ride to or from the Newark airport and NYC SuperShuttle can provide affordable airport shuttles or private car service.
About EWR Airport
Newark, NJ EWR International Airport is one of the sophisticated and beautiful airports in United States especially if you have viewed it from the top. The area where this is placed is being surrounded by water that gives passenger breath taking scene when lifting-off. Do you known that Newark is not mainly in Newark but in Elizabeth New Jersey as well? This stands across the boundaries, which serves N.Y metropolitan area together with cruise ports like "Port of New York". This lies almost 15 miles Manhattan southwest , and serves as the busiest airport in New Jersey and New York. When New York's airport area are combines, this makes up the biggest airport system in the U.S. Newark handles over 35 million passengers and serves as the 3rd largest center for United Airline that is great due to its largest tenant.
Tourist Destinations in Newark
In Newark, you can see countless of museums such as Newark Museum that features almost eighty art and science galleries, planetarium, tiny zoo, auditorium, the Caf, Ballantine house and a garden. When you visit the area, never miss strolling around the "Military Park" where you can find "Wars of America Monument". Visit Symphony Hall, these places serve as an "NHL Game" with NJ Devils in Prudential Center.
Things to do near EWR
Newark is located just outside of New York City and EWR is one of the world's busiest airports. While you are in Newark you'll want to check out the Newark Museum. This museum is a zoo, planetarium, art museum, garden and science museum all in one. Some other places you might want to see while you are here are the Military Park, the Symphony Hall or you can watch the NJ Devils play.
EWR Contact Information
Newark Liberty International Airport
1 Brewster Road
Newark, New Jersey
Airport Code: EWR