London Gatwick LGW Airport Shuttle
A small facility famous for being the London's 2nd-busiest, Gatwick Airport offers great convenience for those trying to get to the south side, even more so for those looking to explore the vast forests of South Downs National Park. Offering rail links to downtown as well as helpful shuttles courtesy of on-site hotels like Premier Inn London Gatwick Airport North Terminal, you'll look forward to getting out of the area by making it easy. Give yourself the added benefit of private exploration with a ride that brings you home every time you need it.
Search for LGW airport rides
AirportShuttles.com response to COVID-19 concerns and important updates for customers with upcoming bookings.

Trusted service since 2003

Flight Delayed? We wait.

24/7 Customer Service


London Gatwick Airport Transportation

Arrive to the best locales by making sure you're well-prepared to take it on, whether you're in need of a private sedan to check out the green spaces at St. James's Park or a roomy SUV to bring the whole family on a journey through underground artifacts of The Churchill War Rooms. Explore the unseen history behind popular neighborhoods by making arrangements with a local personal driver, checking out the best casinos and art galleries in Mayfair while getting tips on where to grab coffee at the heart of Soho. Other meet-and-greet services include stretched limousines, a luxury especially necessary for first-time business travelers looking to especially enjoy what's around King Street, or taxis for a quick solution to get to an event at the London Convention Centre.

LGW Shuttle Transfers

Getting ready to hop across the pond? Make sure you have a lift from the airport waiting for you once you get there. To make it easy on yourself, go with a company you know and trust such as AirportShuttles.com.

Airport Transfers

Find other destinations that offer GO Airport Shuttle or search for other transportation providers at Love Field airport.
London Airport Shuttle Service
From the airport take the Express rail service from LGW to Central London. Central London can be navigated either by tube or light rail. South London can be navigated by tram or rail. London is easy to navigate by foot and really it's the fastest means of transportation.
Private sedan
Come to the British museum in London, a museum displaying a lot of Egyptian features. Let our private sedan take you to this wonderful destination. You will have a wonderful and safe ride in our private sedan.

Private SUV
Most tourists love the amazing and breathtaking features in Victoria and Albert Museum. People call it V&A. Enjoy the beautiful experience in a private SUV as it takes you to this wonderful destination.

Stretched Limousine
National gallery is another must be place in London especially to people who love art. Let our stretched limousine take you to this marvelous destination to a collection of awesome arts and designs from all over the world.

Taxi cub
The Tower of London has great history and forms the best historical site in London. Our Tax cub is always available and will offer you one of the most comfortable rides to the Tower of London.

Local personal drivers
Get a local personal driver just from the Airport as you land in London. You will enjoy an amazing ride with privacy and a breathtaking comfort.

Shared van ride
Never get stranded at any point in London.  Our shared van rides are readily available offering you the comfort you need as it takes you to Churchill war rooms.

Private van
Take a private van to the house of parliament. You will enjoy the stunning view of the destination. Our private van services are very affordable

Bus
Let our spacious bus take you and your family to the amazing Big Ben. You will enjoy a safe and comfortable ride.
LGW airport terminals
London Gatwick airport is one of the most visited airports in Europe. Don't get lost in the crowd, use this airport terminal map for LGW so that you can figure out the best places to eat and shop along with where your connection is.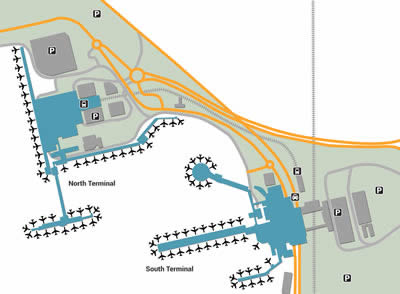 London Gatwick Airport Shuttles

London is home to world famous landmarks such as Piccadilly Circus, Kew Gardens, the Palace of Westminster, St Margaret's Church, Tower Bridge, Wimbledon, and "The Gherkin". These are just a few reasons to visit jolly old London.

Taxi is a good means of transportation in London. The reputed black cabs are really cheap and can either be hailed from the curb or booked via phone. The minimum charge is 2.40 pound and then you are charged per distance and per minute rate. Minicabs need to be booked by phones and can cost a little more. Some may not speak English and they rely heavily on GPS unlike Black cab drives. Most Londoners take public transportation, however if you decide to rent a car be aware that there is a hefty charge to drive into the city.

Things to do near LGW
Take a boat ride on the River Thames its very pleasant way to see the London skyline. Famous tourist attractions in London include: Buckingham Palace, London Eye, St. Paul's Cathedral, Tower of London, Westminster Abbey, and the Shard. London also has a host of world-class museums.

Where to eat in London
Just like any other large city there are literally hundreds of restaurants to choose from in any area of London. Finding the right place to eat can be quite difficult. If you are looking for nationally recognized chains you can find your share of McDonald's, Domino's, Krispy Kreme, Red Lobster and more. Many of the same chains you enjoy in the United States can be found in London. If you want to enjoy a traditional breakfast for around 5 pound you can enjoy bacon, eggs and sausage. This meal is served in most pubs up to 11:00 and usually all day.

About London Gatwick Airport
London Gatwick Airport abbreviated LGW is located 29.5 miles (47.5km/0 south of central London in Crawley West Sussex. The airport serves 35 million people each year. It's the world's busiest airport that operates a single runway. London itself it the capital of England; more than 13 million people live there. There are over 32 boroughs in Greater London and plenty to see and do.

Things to know in London
London does not offer free public Wi-Fi; go to McDonald's or Starbucks there are a number of other fee coffee shops and pubs that offer Wi-Fi also. The emergency service telephone number for Police, Fire, Rescue, and Ambulance is "999" or "112." Theft is a problem in London; beware of cyclist who will snatch your mobile phone out of your hand. Beware of scams involving women that invite you to a bar or club, which are usually deserted; once you order a drink the bills are heavily inflated with a hostess fee. If you do not pay the patrons are normally locked in the club and forced to pay.

Information about London
As of the 2012 Summer Olympics in London will be the first city to host the summer games 3 times. In 2010 Gatwick served over 31 million passengers. London Gatwick Airport is the second busiest airport in London, next to London Heathrow. It is the 9th busiest airport in Europe. It is located about 28 miles south of London and about 3 miles north of Crawley in West Sussex.

Gatwick more and more offers mainly domestic and European travel as opposed to International only two US airlines currently have flights in and out of Gatwick, Delta and US Airways. The two airlines, which are dominant in Gatwick, are British Airways and EasyJet.

Although Gatwick is London's second largest airport it only operates one runway. The airport actually has two runways but will only allow one at a time to be in use. It currently has 2 terminals, the north terminal and the south terminal. Gatwick is a family friendly airport and is equipped with areas for feeding your baby as well as baby changing stations. It also has areas for children to play and video game areas.

LGW Contact Information:
London Gatwick Airport
West Sussex RH6 0NP
United Kingdom
Airport Code: LGW