Hong Kong International HKG Airport Shuttle
A huge facility home to a large shopping mall, 2 terminals, on-site hotels and an express train stop, Hong Kong International takes the cake for the world's most ornate and well-thought-out airports. An island away from downtown and located along Lantau Island, you'll want a ride as soon as you get out. Take advantage of the modern marvel by utilizing the many shuttles and private rides ready to help, from free lifts offered by Hong Kong SkyCity Marriott Hotel and Regal Airport Hotel to private rides that speak to your sense of adventure.
Search for HKG airport rides
AirportShuttles.com response to COVID-19 concerns and important updates for customers with upcoming bookings.

Trusted service since 2003

Flight Delayed? We wait.

24/7 Customer Service


Hong Kong Airport Transportation

From unreal views to quiet downtown nooks, you'll find yourself lost in a whirlwind of choices. Make things simple with the right ride, whether you're a family looking forward to making Disneyland memories with an SUV or a business traveler avoiding the subway for above-ground views via taxi. For out-of-towners looking to learn as they go along, book a local personal driver to show you the best corners of Hong Kong Park as well as the coolest eateries near the Causeway Bay. If you're looking to impress your overseas counterparts, book a stretched limousine for the ultimate downtown cruise, bringing everyone along for an upscale eats and high art along the famed Salisbury Road.

HKG Airport Transfers

Find other destinations that offer GO Airport Shuttle or search for other transportation providers at Hong Kong (HKG) airport.

Shuttle Locations

Looking for airport shuttle rides? Learn how you can get connected to the best shared ride van providers, sedans and private vans and view our airport transfer locations.
Hong Kong Airport Shuttle Service
There are numerous ways to get to and from Chek Lap Kok to Hong Kong. The star ferry operates 2 routes and can cost around $2.50.
Shared Ride Van
The shared ride van is here to assist you if you want to reach any of the great tourist destinations in Hong Kong, such as The Hong Kong Catholic Cathedral of The Immaculate Conception or the Kun Ting Study Hall.
Private Van
Are you in need of airport transportation and you aren't sure to get around in this completely foreign city? Select the private van services and you will definitely be delighted with the comfort and the ease they provide you with.
Private Sedan
Are you in a hurry to get to the International Commerce Centre? Just pickup the telephone and give us a call, the private Sedan is at your service anytime.
Local Personal Drivers
Knowledgeable about the local places and services, our local personal drivers are at your service whenever and wherever you need them.
Private SUV
If you want to arrive at the great amusement parks Hong Kong has to offer its tourists, like the Hong Kong Observation Wheel or the Ocean Park, then the private SUV is more than convenient for you.
Taxi Cab
Do you want to arrive at the Po Lin (Precious Lotus) Monastery or the Kadoorie Farm and Botanical Gardens? You can resort to our reliable and professional taxicab services.
Stretched Limousine
Looking for a regal journey? Hire the stretched limousine services and have the time of your life in Hong Kong.
Chartered Bus
Do you want to participate to events organized at the Central Waterfront Promenade? Our bus-for-hire service can pick you up.
HKG airport terminals
Hong Kong International Airport is one of the busiest airports in Asia and also in the world. Our airport terminal map of HKG airport will help guide you through and help you find the airport amenities that you need.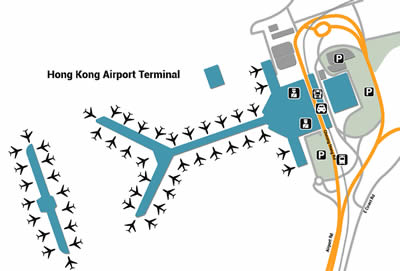 Hong Kong Airport Shuttles

You can reserve a hotel shuttle in Hong Kong or you can make discount airport transportation reservations.

You can take a bus to get around; fares will range in price. If you're planning to travel a little further than around Hong Kong, the MRT and the train will be your best options. There are also taxis that can be arranged for travel around Hong Kong. If you are planning to drive you must note that renting a car is unheard of in Hong Kong. If you do you'll can pay a various price range per day, you also have to contend with heavy traffic, a complex road system, expensive parking, and you must be at least 18 years old.

Hotels near HKG
Expect to pay up to quit a bit for a room, anything below this price is considered budget and will only get you a bed, rarely a room. The parks in Hong Kong also offer 39 camping sites. You can stay at the Hong Kong Disneyland Resort, which opened in 2005. 

About Hong Kong Airport
Hong Kong International Airport abbreviated HKG is not located on the western waters of Hong Kong on Chek Lap Kok island. HKG is considered one of the world's busiest airports in terms of cargo and passengers, and in Asia. More than 59.9 million passengers were handled at this airport in 2013.

Things to do in Hong Kong
There is so much to see and do in and around Hong Kong. This just a small sampling of popular attractions to visit while you are there:

Avenue of the Stars is like the Hollywood Walk of Fame and it's located in Tsim Sha Tsui, along the Victoria Harbour waterfront. Ocean Park is a theme park with thrill rides, an aquarium, and giant pandas.

Hong Kong has a Disneyland, if you have never visited a Disney theme park you are in for a treat. It has all the magical wonders as the ones in the States. Compared to other theme parks especially other Disney theme parks this one is more economically for entry fees and food. There are also many festivals, 5 beaches, Kowloon Park pools, rent a junk boat and go sailing, hiking and camping.

Hong Kong Restaurants
If you're going to visit Hong Kong make sure you check out some authentic Chinese food, sure you can get McDonalds and Starbucks, but try some dim sum, pineapple bun (boh loh baau), or if you're brave stinky tofu. You can get these delicacies at most Chinese restaurants in Hong Kong. Check out these great places: Mongkok café, Lei Garden, Hang Heung, Kau Kee, or Tung Wong House.

HKG Contact Information
Hong Kong International Airport
1 Sky Plaza Road
Chek Lap Kok, Hong Kong
Airport Code: HKG